Your Man Kit's HOF Ballot All-Stars. Part The First: Skill Positions
I love the Pro Football Hall of Fame. I love history, and historical perspective is something that is lacking in the lives of so many people, so what is there not to love about an institution devoted to the maintaining of historical perspective? Well, ask the sclerotic, ancient, humorless gatekeepers of the baseball hall of fame, who have conspired to not vote ANYONE in for two of the previous five years.  Or the basketball hall of fame, if you can find it, so shrouded in secrecy are their annual events. The PFHOF seems shockingly alone among sport halls of fame in understanding its mission, and publicizing its mission. They don't always get it right, but the fact that they even try is encouraging, as is the fact that every year a minimum of four players are inducted into Canton. History disappears without devoted historians.
The PFHOF is also remarkably transparent about its process.The initial list of nominees, which this year stands at 99 players and 14 coaches, is whittled down to 25, then 15, then 10, then a final group of five. It's a process that only I pay attention to, I guess, but it's always a fun parallel to the attrition of the regular season, which reduces 32 teams to 12 playoff teams to one champion. The first cut to 25 players won't be made until November, but I took a shot at it, and to ensure a balanced ballot, I decided to make a team of nominees. The best available players at all positions. With a 3-4 base and accurate O-line positions, even. Your man Kit is going all out.
Quarterback- Kurt Warner.
The only legitimate choice for quarterback on the ballot this go-round, Warner also receives points for his story making such good copy for sportswriters for so long. Everyone loves the grocery store to MVP story, and Warner's late career resurgence with the Cardinals was a micro version of that same rags-to-riches rise. What are the Cardinals if not the grocery stockboy of the NFL?  Warner took them to the Super Bowl, their first NFL title game since they played in Chicago. The problem for Warner's candidacy, one that I've yet to hear a voter bring up, is the middle of his career. From 2002 to 2006, Warner was bad. Bad, bad, bad. That span encompasses half his career, and features him being run out of two towns. He was replaced by Marc Bulger in St. Louis after starting 2002 0-6, with eight fumbles and eleven picks. He spent one year in New York as the regent, keeping the seat lukewarm for rookie Eli Manning. Even when he initially went to Arizona, he was splitting starts with rookie Matt Leinart and Josh McCown (yep, that Josh McCown.) From 2002 to 2006, Warner was 8-23 in games he started, with 27 touchdowns against 30 picks and a troubling 45 fumbles. The beginning and end of Kurt Warner's career are storybook, and he will probably be enshrined on the strength of those six seasons, but the middle is pure John Cheever middle-class despair, and that despair should be fairly reckoned with before we put Kurt in Canton.

Running Back-Roger Craig.
Dual threat running back is no longer an impressive term. At this point it'd be more noteworthy if your featured back could not be counted on to catch 50-60 catches per season. But, just as at one time power windows were mentioned as the centerpiece of car commercials, Roger Craig once stood as something unique in football, chimeric and fearsome. He was a key weapon on three title teams, he was a protoype for a role that redefined his position, he was part of the league's all 1980s team, he should be a Hall of Famer. It's odd to me that we are still having this conversation in 2014.

Running Back- Jerome Bettis.
Running back is a very crowded category at the moment, and that's why this exercise is so helpful. I could count five running backs I would put in the hall today and three more that I would be willing to have a long discussion about, and one that does not belong but for sentimental reasons I would entertain. Creating a team prioritizes the field in my mind, and ensures that my hypothetical ballot is not just a long parade of running backs. Jerome Bettis performed at a consistently high level, and at his peak, you knew exactly what Pittsburgh was going to do with him and you were still basically powerless in the face of things.  

Wide Reciever- Marvin Harrison.
The recent Ray Rice/Adrian Peterson punishments raise a set of questions that, thankfully, no one has pontificated on in public because of its inappropriateness. But, having already proven my social justice bonafides here and elsewhere, it's up to me to ask: what happens to their Hall of Fame chances? And what happens to Marvin Harrison's? People have forgotten, but Marvin Harrison is a terrifying person who was sued by a drug dealer who said that Harrison shot him. The subsequent court case determined that it was Harrison's gun, but no one could definitively say Harrison shot him. Then that drug dealer turned up dead in his car, shot multiple times. The implication was that Harrison was some kind of character from The Wire, running his neighborhood in Philly through fear. All of this came to surface shortly after his retirement, and things on this front have been silent since. Of course, nothing's been proven either way, and due process is NOT an excuse or a buzzword; it's an actual thing that people have the right to. But is this a discussion that the NFL wants? That anyone wants? And what happens early next decade when Adrian Peterson makes his way to the ballot for the first time? What should happen? I don't know. I'm not saying anything, either way, and I want you to tell Marvin that I ain't said shit about him, understand me?

Wide Reciever-Torry Holt.

When the Rams drafted Holt, they passed on Champ Bailey, Chris McCalister, Jevon Kearse, and Joey Porter. Skipping over those players to reinforce a position that the Rams were already strong and deep in is usually the sort of thing that snickering smarmy talking heads get to have fun with in a draft blunder retrospective, but joining Holt with Isaac Bruce, Az-Zahir Hakim, and Ricky Proehl was the final piece in the creation of the Greatest Show On Turf. The story of offense in the NFL is the slow, LSD-tinged revelation that, like, anything is possible, man, and as one of the key members of one of the key teams in the spirit journey of the NFL, Holt jumps on this list above some great players with great numbers. Tim Brown deserves induction, but he can't be attatched to a greater story of progress and innovation the way Holt can. And for the statheaded skeptics, Holt has the numbers too. Seven pro bowls, two 1600 yard seasons (something only done by Holt, Megatron, and Marvin, uh, nevermind I ain't said shit), 2000s All-decade team. Holt is a great and historic figure, which is distinct from and lesser than historically great, but a step above just great.
Tight End-Mark Bavaro.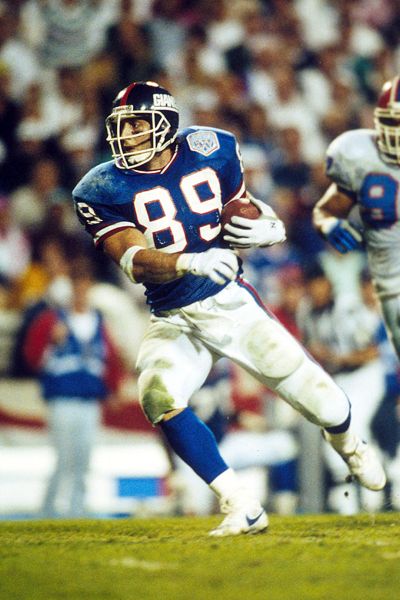 Bavaro is this team's tight end by acclimation; he's the only one on the ballot. When looking at Bavaro's career, it's hard to sort through the tall tales of what a tough guy he was and look at his true value to his team. There's stories of him playing a game with a broken jaw. There's an NFL Films go-to clip of him dragging the entire 49ers defense for 20 yards in the 1986 NFC title game. Bavaro was tough, and his first four seasons speak for themselves; he averaged 53 catches in his first four seasons and was twice an All-Pro. The next six seasons, he averaged 23 catches, missing the entire 1991 season to injury, and only sporadically was a contributor, bouncing from the Giants to the Browns and Eagles. From 1989 to 1994, Bavaro caught five or more passes exactly five times; in 1986, his finest year and a title year for his Giants, he caught five or more catches in nine different games. Waiting for a broken down tough guy to return to form is a tough form of self-delusion to sit through. "Wait 'til he's healthy" becomes "you should've seen him when he was healthy" with a disarming alacrity. Ten years from now, Bavaro still won't be in the hall of fame, and tall tales with a familiar ring will start to surface about Rob Gronkowski, and the Boston Sports Scene will have completed its apparent mission of becoming everything it hated about New York.